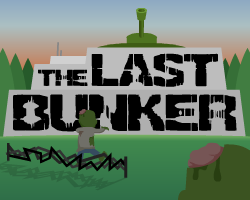 The Last Bunker
Hello everyone.
We've put a new build up to fix or address the following:
- Zombie brains can now drop from zombies that fall in punji pits.
- Added a mute button!
- Moved the info button and stats slider slightly out of the core gameplay area.
- Loot snails can now spawn with slightly less health, should not get stuck on hidden objects anymore.
- Base turret range has been increased substantially.
- Additional turret upgrades range has been increased.
- Fixed an issue with the clinic survivor capacity upgrade where it was not interactive even if the user had sufficient resources.
- When a survivor drops resources at your bunker door, a sfx now plays.
- Processors now show whole numbers and should run more efficiently. We hope this fixes the issue of the lab and supply depot not properly yielding resources on completion.This may help improve long term performance as well.
- Misc spelling errors.
Let us know what you think!
Files
The_Last_Bunker_Itch.zip
Play in browser
May 25, 2017